Are there votes and elections at your meeting for which you need legally secure results? votebox supports you safely and reliably. Regardless of whether you hold an in-person, virtual or hybrid meeting, your members can vote on the various agenda items in real time using voting handsets or web app.
Efficient, secure live voting with electronic voting system
Hold votes and elections efficiently, even with large numbers of members
Save valuable time with electronic voting and immediate counting
Reliably authenticate eligible voters on registration
Display the results in real time
Prevent invalid votes or counting errors
Increase satisfaction and participation through simple voting systems and transparent procedures
Obtain voting records immediately after the meeting
Safeguard all election principles, especially secrecy, transparency and integrity of the ballot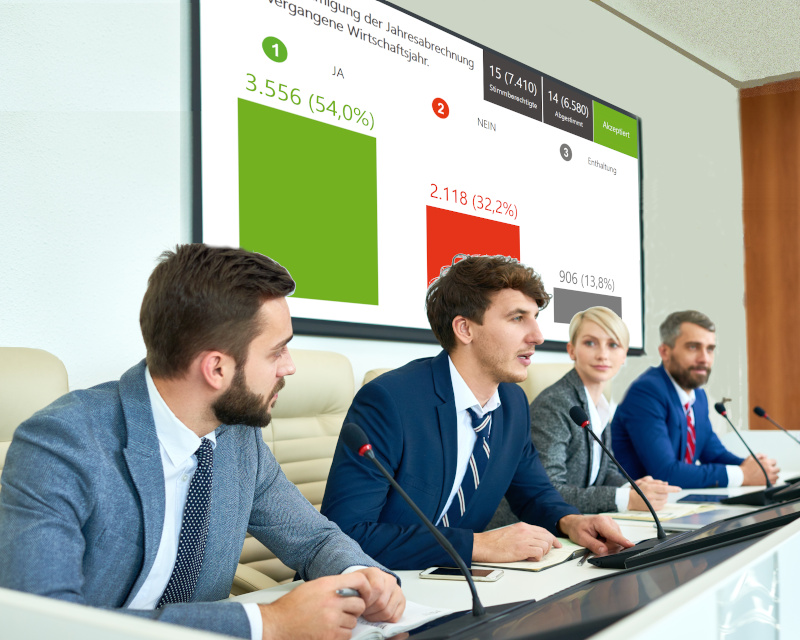 Live voting by…
In-person meeting
Your members vote by means of modern and reliable handsets, without requiring Internet.
Online-meeting
Your members vote via a secure web app, which can be opened from any web browser on a smartphone, tablet or PC, and combined with your preferred video conferencing tool.
News from our social networks
Our partners